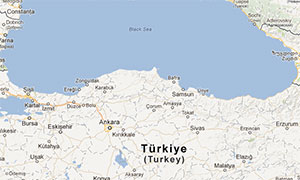 OPERATED BY: Cakiroglu Ordu Liman Isletmesi A.S. - Turkey

PHONE: (212) 262 02 83 - 223 87 17
FAX: (212) 223 43 20
LOCATION: Lat: 41 00 N Long: 37 53 E

DESCRIPTION OF THE PORT: Ordu is situated on the coast of Black Sea. The port faces mainy domestic cargo traffic.

ANCHORAGE AREAS: in front of the harbour.

PILOTAGE: Compulsory. Provided by the port administration

TOWAGE: compulsory.

BERTHING:


BERTH LENGTH (m) DEPTH (m)
Bulk pier no 1 179 - 5 ?7.5
Bulk pier no 2 90 -8 ?9

CARGO HANDLED: Mainly Logs, Wheat, Flour, MDF and bulk cargoes.

CARGO HANDLING EQUIPMENT: Vessels own gear used

CONTAINER FACILITIES: Unavailable.

DENSITY: 1013

FRESH WATER: available.

BUNKER: available.

AIRPORT: At Trabzon distance apprx. 100 km and Samsun is 180 km from the port..

WORKING HOURS: operates 24 hours a day year round,

GARBAGE REMOVAL: service is not available.

WASTE OIL DISPOSAL: service is not available.