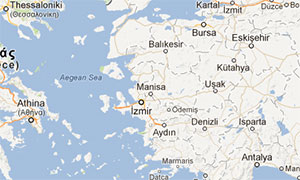 OPERATED BY: Mopak Dalaman Pulp-Paper-Cardboard Integrated Plant
ADDRESS: Mopak Dalaman Seluloz-Kagit-Karton Entegre Tesisleri" Mugla Turkey
PHONE: 90(252) 697 56 00

DESCRIPTION OF THE PIER: The pier belongs to Mopak Pulp- Paper- Cardboard plant. The pier consists of a main berth, total length 157m at a slight angle to main berth is the berth (92.5m. length) for small tankers of up to 1.000 Dwt. Depth alongside the main berth are as follows: at the extreme SW. part 10.4m in the middle 11.5m and at the extreme NE. part 10.0m. The pier is perfectly sheltered from all winds and swells. There are many berths for pleasure and fishing craft in completely bay area that is considered a tourist resort. Some of those berths have piers, protruding 20m - 30m from the shore, but none obstruct navigation or manoeuvres of the cargo vessels.

LOACATION: Gocek pier is located in the Northern West part of Fethiye Bay in a position:
Approx. Lat: 36° 45' 20"N, Long: 28° 55' 50"E

ANCHORAGE : About 1 mile off the pier,

BREAK WATER: It is not available,

PILOTAGE: Pilotage is compulsory for berthing- unberthing. Pilot boards the vessels few cables off the pier. Private pilot provides the service.

TOWAGE: Towage is compulsory. Tugboat is not available in Gocek or Fethiye. Therefore, Tugboats arrange by the agent from Antalya or Marmaris. Local fishing boats can be hired order to use as pilot boat and later as a mooring boat.

RESTRICTIONS: The pier is only available for vessels' discharging - loading cargoes which belong to the Mopak Pulp - Paper - Cardboard Integrated Plant, it is not utilized for third parties.

CARGO HANDLING EQUIPMENTS: No shore cranes and other equipments are available on the pier therefore; vessels use their own gears for loading unloading.

CARGO HANDLING RATES: Loading- unloading rates vary 500 -750 mt per day. At present, export of Paper and import of waste paper are handled at the pier for nearby paper factory.

STORAGE: There is no storage area near the pier,

BERTHING: In berthing port side alongside (which is recommended because of departure), during the manoeuvre vessel's stern will sometimes be quite close to mentioned buoys (Loa 135m- 12.000 Dwt.) Starboard anchor should be used well in advance in order to swing the vessel to starboard and to facilitate the departure (at least 4 shackles) Swinging area is quite restricted and manoeuvre should be done without any haste and carefully.

GARBAGE DISPOSAL: Service is compulsory,

WASTE OIL DISPOSAL: It is not available,

FRESH WATER: It is not available,

BUNKER SUPPLIES: Gas oil-Fuel oil and lubricants are available for delivery to ships by truck tankers or barge fm Mersin or Izmir

PROVISION AND BONDED STORES: Provisions are available from local shipchandlers - Bonded store is not available.

NEAREST AIRPORT: The nearest airport is in Dalaman. The distance is 25 km.

SHORE LEAVE: Shore leaving is possible after completing custom and immigration formalities. Crew are permitted ashore with shore passes and Seaman's books .All shore passes have to be returned to Immigration before departure.

NATURE OF SEA BOTTOM: Sand and mud,

DENSITY: Salt water 1026

OTHER INFORMATION: Approaching to Gocek pier leads through a deep channel between Gocek Island and Mainland, about 3 cables wide and 1 mile long. The speed should be at the minimum, because vessel is already approaching the berth. There are 2 flat unlit buoys, painted white and red about 80m, from shore, N.W. and N.E. from Akmaden Lighthouse. Both buoys marked "MY HALAS" on sides. In additional there are 2 small white buoys close to S.W. part of berth, apparently marking entrance to yacht harbour.

NECESSARY DOCUMENTS FOR INWARD OUTWARD CLEARANCES:
8 copies of crew list. if any on board 8 copies of passenger list and 8 copies of stowaway list. 2 copies of crew effect declaration, 2 copies of store list including bunker rob figures, 1 copy of maritime health declaration, Cargo manifest, Bill of Lading, Last port clearance, all crew passports or Seaman's books, The Flag state endorsement of deck and engine officers, all ships certificates in original.