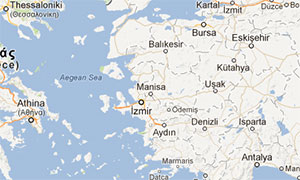 OPERATED BY: Habas Liman Isletmeleri A.S. - Turkey

PHONE: (232) 625 11 81 - 625 11 71
FAX: (232) 625 11 72
LOCATION: 38° 45' N, 26° 55' E (Eastern Side of Cukurova Pier).

MAIN ACTIVITY: Private jetty for loading/discharging iron and steel products.

ANCHORAGE AREAS:Information on best location of anchorage will be given by Pilot station

PILOTAGE: : is compulsory for vessels entering or leaving the ports provided by the Uzmar Pilot VHF channels 16, 10 three hours before arrival at the bay. Pilot embarkation place 38 46,8 N 026 54,4 E

TOWAGE: is provided by the Uzmar Pilot round the clock.

CARGO HANDLING EQUIPMENT: Mostly by vessels' own gear or mobile cranes.

FRESH WATER: available by barge.

BUNKER: available by barge only.

AIRPORT: At Izmir distance apprx.75 km from the port.

WORKING HOURS: operates 24 hours a day year round.

GARBAGE REMOVAL: service is available by barge.

WASTE OIL DISPOSAL: service is not available.

TUGGIDEVELOPMENTSNG: A new berths are under contruction.