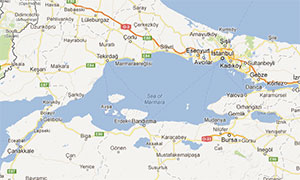 OPERATED BY: Aksa Akrilik Kimya San. A.S.

ADDRESS: Denizcali Koyu Karamursel yolu 13 Km. PK.115 Yalova - Turkey
PHONE: (226) 353 25 45
FAX: (226) 353 25 58 / (226) 353 33 07
LOCATION: 40° 41' 10" N, 29° 24' 30" E

MAIN ACTIVITY: Discharging of liquid chemicals (ACN, Methanol, Acetic Acid) ,This terminal is private and has own berth facilities, built for importing and/or exporting products.

RESTRICTIONS: Mooring is carried out during daylight only, Unmooring is carried out around the clock.

MAX. DRAFT: 9 m

ANCHORAGE AREAS: please see "Gulf of Izmit" (Information on best location of anchorage will be given by Pilot station)

PILOTAGE: is compulsory in the Gulf of Izmit from Darica to the port and for berthing and unberthing and anchoring, provided by the Dekas Pilot.VHF channels 12, 16.

TOWAGE: and/or mooring boat compulsory arranged by pilot and provided by the Med-Marine.

STORAGE AREAS: 18.000 tons naphta available.

MAX. PERM.: load: 3 kgs / sqcm.

CARGO CONNECTION AVRG. RATE BERTH
A. Acid 4" 100 mt/h Dolphin
Fuel Oil 1 x 6" 150 mt/h Jetty/Dolphin
V. A. M. 6" / 8" 200 mt/h Dolphin
A. C. N. 6" / 8"/10" 250 mt/h Dolphin
C. Soda 8" Dolphin
Methanol 8"/6" 200 mt/h Dolphin
Naphtha 12" 300-350 mt/h Dolphin

OTHER INFORMATIONS: 2 different parcels can be discharged simultaneuosley. Distance from vessel to shore tanks 1200m. and back pressure 4kgm.

FRESH WATER: available by barge only.

BUNKER: available by barge only.

AIRPORT: At Istanbul distance apprx. 130 km from the port.

WORKING HOURS: operates 24 hours a day year round,

GARBAGE REMOVAL: service is available by barge.

WASTE OIL DISPOSAL: service is not available.