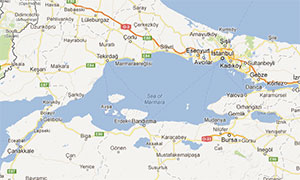 OPERATED BY: Petkim, Petro Kimya Holding A.S.

ADDRESS: Yarpet Petro Kimya Tesisleri P.K. 46-47 Korfez 41740 ,Kocaeli ,Turkey
PHONE: (262) 528 14 50/20 lines, 528 20 20/10 lines
FAX: (262) 528 14 00 - 528 17 38 - 528 14 10
LOCATION: Petkim is an industrial complex at the entrance to The Gulf of Izmit, near Yarimca. It includes the factories of Petkim to the North and TUPRAS to the South. A wide range of oils, chemicals, gases, bulk fertilizers and chemicals are handled. The products Pier which handhelds ammonia is in position
Lat. 40° 45' 4" N, 29° 45' 1" E. close by is a bulk handling berth with a solid quay face. The area in general is one of the main trading areas for overseas shipping in Turkey. To the North West of the Refinery at Yarimca is Hereke, another important shipping complex.

ANCHORAGE AREAS: please see "Gulf of Izmit" (Information on best location of anchorage will be given by Pilot station).

PILOTAGE: is compulsory for vessels entering or leaving the ports and through the Izmit Gulf. Call Dekas Pilot on VHF channels 12, 16 three hours before arrival at Darica for through the port. Pilot Boarding Point which is Lat. 40 deg 44' 89" N and Long. 029 deg 22' 66" E.

TOWAGE: and/or mooring boat compulsory arranged by pilot and and provided by the TUPRAS and additional tugs are used by the Med-Marine.

BERTHING: is usually type of tanker berth consisting of a "T" shaped jetty at the end of pipeline roadway. There are dolphins connected by catwalk to main pier, plus further isolated mooring dolphins about 50m. off inner dolphins. Container handling available in case of request, weigh-bridges 1x100tons, 1x80tons, 1x40tons.
Moorings are fitted with quick release hooks. Dolphins have good fender and mooring arrangement Vessels normally berthed port-side due to anchored vessels, making starboard approach difficult. But possible for starboard side alongside.

BERTHS LOA DRAFT HEIGHT FROM THE SEA
Tankers Berth 105 m -10.50 m 4.20 m
Salt Pier (*) 130 m -5.00 m 1.50 m
Dry Cargo Pier (*) 320 m -5.50 m 1.50 m
(*)Vessels' own gear to be used for dry cargoes.

DISCHARGE: Line capacities are given to ship's master by surveyor before discharge. The tank pressure varies from 2.5 to 5 bar.
CARGO CONNECTION RATE STORAGE BERTH
EDC 12" 6" 8" 4" 150mt/h 4000mt Tankers Berth
N.Olein 12" 6" 8" 4" 150mt/h 4000mt Tankers Berth
VCM 12" 6" 8" 4" 95mt/h 2500mt Tankers Berth
Butadiene 12" 6" 8" 4" 380mt/h 4500mt Tankers Berth
Ammonia(-32 deg-back Pressure 0.5-1.5 kg/cm3) 14" 400mt/h 9000mt Tankers Berth
Styrene 12" 6" 8" 4" 140mt/h 4000mt Tankers Berth
Carbon Black 12" 6" 8" 4" 400mt/h 2000mt Tankers Berth
Benzene 12" 6" 8" 4" 250mt/h 7000mt Tankers Berth
Caustic Soda 12" 6" 8" 4" 80mt/h 800mt Tankers Berth
Ethylene 14" 300mt/h 5000mt Tankers Berth
C4 6" 100mt/h Tankers Berth
General 500-700mts/day
Salt in bulk 700mts/day
Sulphur in bulk 1000mts/day
PVC in bulk 600mts/day
LPG 250mts/h


STORAGE AREA: 15.000 sqm open. parking area; 10.000 sqm.

FRESH WATER: available from quay at 40 t.p.h.

BUNKER: available by barge only. (Notice to agent 48 hours required prior to berthing).

AIRPORT: At Istanbul distance apprx.125 km from the port.

WORKING HOURS: Normally only during daylight for dry cargoes, 24 hours for liquids.

GARBAGE REMOVAL: service is available.

WASTE OIL DISPOSAL: service is available.