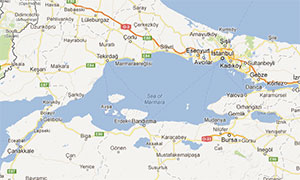 BADALAN BAY ;

- BADALAN IS A SMALL BAY AND IS STUATED NORTH-WEST PART OF MARMARA ISLAND
IN THE SEA OF MARMARA.

- VSLS ARE CLEARED BY CUSTOMS IN FORNT OF MARAMARA VILLAGE WHICH CO-ORDINATE IS :
40 34 91 N / 27 33 50 E

AFTER HAVING CLEARANCE AT MARMARA VILLAGE THEN VSLS PROCEED TO BEHIND OF
MARMARA ISLAND TO BADALAN BAY / BERTH (NEW) NAMED OZGUMUS

- CO-ORDINATE OF BADALAN BAY : 40 39 N / 27 34 E

- MAX DRAFT 9,00 METERS
- LENGTH OF QUAY ABT 5 METERS
(THE NEW JETTY IS BUILT 3-MTRS OFF FM SHORE TO SEA DIRECTION FM THE OLD JETTY)
- MAX. LOA 100 METERS ACCEPTABLE
- LOADING BY FIXED CONVEYOR BELT BUT THIS CONVEYOR BELT CAN REACH ABT 8 METERS
AWAY FM SHIP'S RAIL TO OTHER SIDE OF VSLS
- LOADING RATE ABT 150-MTS PER HOUR / NO WORK AFTER MIDNIGHT
- VSLS MAY SHIFT ON THE QUAY TO FORWARD AND BACKWARD WHILE LOADING OF CARGO,
CAUSE OF FIXED CONVEYOR BELT AT SHORE
- BADALAN IS NATURAL VERY SMALL BAY AND OPEN TO N/NE WIND
- B/L QUANTITY ISSUE ACCORDING DRAFT SURVEY REPORT
- HAVING INTIAL / FINAL DRAFT SURVEYING AT MARMARA VILLAGE, TOO.
- PILOTAGE N TUGS SERVICES NOT AVAILABLE.