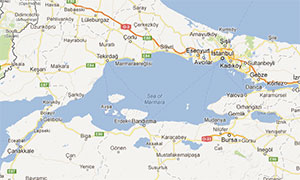 OPERATED BY: BP Petrolleri A.S.

PHONE: (224) 524 83 00
FAX: (224) 524 83 05
LOCATION: The Private Jetty is situated West of Gemlik in position Lat. 40° 25' N, Long. 29° 06' E.

RESTRICTIONS: Berthing in daylight and unberthing 24 hrs.

ANCHORAGE AREAS: Lat. 40 28 N, Long. 29 03 E. The vessels must be clear of white buoys lying from Long. 29° 09' 02" E. Gemlik bay when anchoring. (Information on best location of anchorage will be given by Pilot station.)

PILOTAGE: is compulsory for berthing and unberthing and anchoring, provided by the GEMPORT Pilot VHF channels 14, 71 or 16.

TOWAGE: and/or mooring boat compulsory arranged by pilot and provided by the GEMPORT.

BERTHING: Jetty of 55 m. length with berthing by stern tied-up to the jetty and the buoys. Ships use both anchors from their bow.

BERTH LOA DRAFT BERTHING
55 m. 11 m. Stern Fast

CARGO HANDLED: Gas Oil, Diesel Oil, Base Oil, MEG, Fuel Oil. .The lines are 250 m. from shore tank to manifold. The terminal does not handle any third party cargoes.

CARGO CONNECTION AVRG. RATE SHORE TANKS
Oils 4 x 8" 120-300 mt/h 35.000 mtons
2 x 6" 42 mt/h
1 x 4"


STORAGE TANKS: 13 separate tanks with a total capacity of 35.000 mts.

FIRE FIGHTING: Existing.

DENSITY: 1018

FRESH WATER: available.

BUNKER: service is not available.

AIRPORT: At Bursa distance apprx. 30 km and 152 km to Istanbul Airport from the port.

WORKING HOURS: operates 24 hours a day year round.

GARBAGE REMOVAL: service is not available.

WASTE OIL DISPOSAL: service is not available.