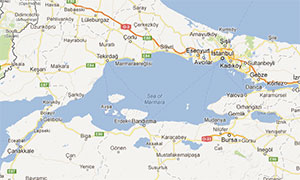 OPERATED BY: Kaptan Demir Celik Endustrisi ve Ticaret A.S.

ADDRESS: Martas Liman Tesisleri A.S. Kiremitlik Mevkii,
Vakiflar Kampi Yani Marmara Ereglisi/Tekirdag-Turkey
PHONE: (0282) 613 18 79 - 613 14 22
FAX: (0282) 613 18 51
LOCATION: 40° 57' 28" N, 27° 55' 60" E. Martas port is 100km . West of Istanbul on the Northern shores of the sea of Marmara.

MAIN ACTIVITY: The port handles silver sand, bulk wheat, bulk SFS, steel products, billets, bagged cargoes, liquid vegoil, general cargo and project general cargo.

ANCHORAGE AREA: is 0.5 mile SW of the port.

PILOTAGE: is compulsory for berthing and unberthing provided by the Martas Pilot.VHF channels 12, 16.

TOWAGE: and/or mooring boat compulsory arranged by pilot and provided by the Martas.

MAX.SIZE: 45.000dwt., LOA 250m., draft 13m. and beam 25m.

BERTHING: There are no berthing restrictions.

BERTH NO BERTH GROUP LENGTH (m) DEPTH (m)
1 General Cargo/Ro-Ro 136m -7 -15
2 General Cargo 157m -15 -25
3 General Cargo 155m -14 -22
4 General Cargo/Ro-Ro 216m -6 -12

CARGO HANDLING EQUIPMENTS: 4 pneumatic for bulk cargoes ,2 bobcat, 2 loaders,1 sweeper and 1 special pneumatic head for discharging sunflowers Mobile cranes 1x7tons, 1x10tons, 1x10tons, 1x12tons and 1x36tons. also can be hired more cranes up to require

CARGO HANDLING RATES: Average discharge for bulk cargoes in a 24 hour working period is 3.500 tons.
Wheat in bulk 500tons, Steel product 5.000tons, Coal 1.000-2.500tons, liquid vegoil 1000-1500tons.

STORAGES: Open 8.500sq.m. Covered 1.150 sq.m.

FRESH WATER: available at all berths.

BUNKER: available by barge or trucks.

AIRPORT: At Istanbul distance apprx. 50 km from the port.

WORKING HOURS: operates 24 hours a day year round,

GARBAGE REMOVAL: service is available by truck.

WASTE OIL DISPOSAL: service is not available.

TUGGIDEVELOPMENTSNG: A new warehouse is under contruction, capacity 15.000 tons, 4.000 sq.m.