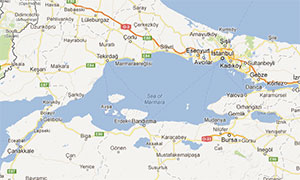 OPERATED BY: Turkish State Sugar Factories Inc.

PHONE: (262) 528 21 03
The terminal is also used by Zulfikarlar Chemical inc. Company as a private charterers.
PHONE: (262) 528 46 40 - 528 49 82 - 528 40 91
FAX: (262) 528 49 81
LOCATION: 40° 45' 24" N, 29° 43' 48" E

DESCRIPTION OF THE PORT: A portion of on ground tank field with 45,000 m/ton storage capacity on 40,000 square meters area-belonging to Zulfikarlar Chemicals Import Export and Trading Incorporation, having activity nearby Yarýmca Gubretaþ Factories as chemicals storage facility, was leased by Turkuaz Petroleum Products Incorporation with permission of Petroleum Affairs General Directory. Tank field has been divided in two parts with 30150 m/tons capacity existing on this section can meet all the present time sequirements of Turkuaz Petroleum Products Incorporation.

ANCHORAGE AREAS: please see "Gulf of Izmit" (Information on best location of anchorage will be given by Pilot station)

PILOTAGE: is compulsory in the Gulf of Izmit from Darica to the port and for berthing and unberthing and anchoring, provided by the Dekas Pilot.VHF channels 12, 16.

TOWAGE: and/or mooring boat compulsory arranged by pilot and and provided by the the Med-Marine.

BERTHING: Width of the pier is 5 meters and depth is 10 meters. Tankers load by stern tied-up to
the jetty and the buoys. Ships use both anchors from their bow.Max.draft 9 meters.

CARGO CONNECTION AVRG. RATE:

CARGO CONNECTION AVRG. RATE
Chemicals 2 x 4inc., 1 x 6inc. 150-200 tons/hr Discharge
Chemicals 2x6inc. 100 tons/hr Loading

STOCKING CAPACITY: 3x20.000 cb.m. (for molasses), 21 separate tanks have a total capacity of 39.185 m3, 4 x 250 m3 for Gas Oil, 4 x 250 m3 for Chemicals, 3 x 845 m3 for Gas Oil, 1 x 4750 m3 for Gas Oil, 6 x 1350 m3 for Chemicals, 1 x 6350 m3 for Chemicals, 1 x 10. 700 m3 for Chemicals.

HOSES FROM SHORE TO MANIFOLD: 200m. If vessel has no stern line, Vessel to provide flexible hoses long enough from ships manifold to stern and plus about 15 meters long for the distance from stern to shore connection.

FRESH WATER: available by barge.

BUNKER: available by barge only.

AIRPORT: At Istanbul distance apprx. 115 km from the port.

WORKING HOURS: operates 24 hours a day year round.

GARBAGE REMOVAL: service is by barge.

WASTE OIL DISPOSAL: available by barge.