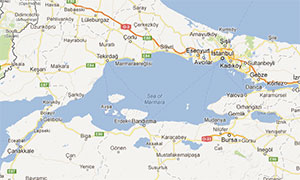 OPERATED BY: Rota Denizcilik ve Ticaret A.S.

ADDRESS: Rota Liman Tesisleri , Korfez , KOCAELI, Turkey
LOCATION: Lat. 40 46 10 N , Long. 29 43 30 E
PHONE: (262) 528 50 29 528 51 44
FAX: (262) 528 19 03

MAIN ACTIVITY: Loading and discharging logs, pvc, papers iron and steel products. Also offering services
to third parties.

ANCHORAGE AREAS: please see "Gulf of Izmit" (Information on best location of anchorage will be given by Pilot station)

PILOTAGE: : is compulsory in the Gulf of Izmit from Darica to the port and for berthing and unberthing and anchoring, provided by the Dekas Pilot.VHF channels 12, 16.

TOWAGE: and/or mooring boat compulsory arranged by pilot and and provided by the the Med-Marine.

BERTHING:

BERTH LENGTH (m) DEPTH(m) HEIGHT(m)
No 1- 2 General Cargo 225 -11 -23 2,5
No 3 General Cargo 150 -15 -23 2,5
No 4 General Cargo 125 -6,5 2,5

CARGO HANDLED: Multipurpose (except liquids).

CARGO HANDLING RATES: Grain loading 3.000 tons/day by portable conveyor.

CARGO HANDLING EQUIPMENT: Mostly by mobile cranes up to 400tons capacity available for hire or vessels' own gear. Weighbridge; 1x100 tons and 1x80 tons. Fire fighting; Existing

STORAGE AREA: Open storage area 25.000 sq.m.flat storage 100.000 tons for grain cargoes.

DENSITY: 1020.

FRESH WATER: available by barge.

BUNKER: available by barge only.

AIRPORT: At Istanbul distance apprx. 115 km from the port.

WORKING HOURS: operates 24 hours a day year round. Shifts: 08.00 -20.00 and 20.00 -08.00

GARBAGE REMOVAL: service is by barge.

WASTE OIL DISPOSAL: available by Municipality and KYOV (a non -lucrative foundation )

TUGGIDEVELOPMENTSNG: One pier under construction Up to 80.000 DWT allowed for liquid cargoes.