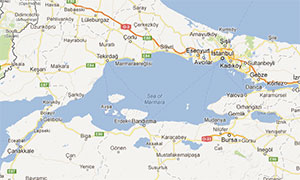 OPERATED BY: Camar Depoculuk ve Tasimacilik A.S.

ADDRESS: Kabakoz mevkii Tutunciftlik 41780 Korfez - Kocaeli
PHONE: (262) 527 75 92
FAX: (262) 527 75 93

ANCHORAGE AREAS: please see "Gulf of Izmit" (Information on best location of anchorage will be given by Pilot station)

PILOTAGE: is compulsory in the Gulf of Izmit from Darica to the port and for berthing and unberthing and anchoring, provided by the Dekas Pilot.VHF channels 12, 16.

TOWAGE: and/or mooring boat compulsory arranged by pilot and provided by the Med-Marine.

CARGO HANDLED: All kind chemicals

BERTHING: Port side alongside at the dolphins. Underwater pipe line 96 m.. Ships use starboard side anchor from their bow.

LOA DRAFT HEIGHT MAX.SIZE DWT /DRAFT
12 m 11 m 2,25m 15.000 dwt./ 9 m

CARGO CONNECTION AVRG. RATE
W. Spirit 4"-6" 180 m3/h
Gsl. Addt. 4"-6" 160 m3/h
Gsl. Addt. 4"-6" 115 m3/h
W. Spirit 4"-6" 110 m3/h
Toluene 4"-6" 120 m3/h
Gsl. Addt. 4"-6" 125 m3/h
Gsl. Addt. 4"-6" 160 m3/h

STORAGE TANKS: Total 22 tanks quantity 22.500 cu.m.

FRESH WATER: available by barge.

BUNKER: available by barge only.

AIRPORT: At Istanbul distance apprx. 120 km from the port.

WORKING HOURS: operates 24 hours a day year round.

GARBAGE REMOVAL: service is available by barge.

WASTE OIL DISPOSAL: available by barge.