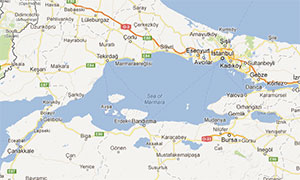 OPERATED BY: AYGAZ A.S. Turkey

PHONE: (262) 527 43 41 - 527 03 61
FAX: (262) 527 03 64,
LOCATION: 40° 45' 10" N, 29° 44' 53" E

MAX. SIZE: of vessels berthed 80.000 cu.m. No length or beam restriction, max.depth is 24.0m- 26.0m.

ANCHORAGE AREAS: please see "Gulf of Izmit" (Information on best location of anchorage will be given by Pilot station)

PILOTAGE: : is compulsory in the Gulf of Izmit from Darica to the port and for berthing and unberthing and anchoring, provided by the Dekas Pilot.VHF channels 12, 16.

TOWAGE: and/or mooring boat compulsory arranged by pilot and and provided by the the Med-Marine.

BERTHING: Port anchor is dropped to 5 schackles in the water. Mooring lines; Forward 2 head lines from starboard bow to a mooring buoy. Aft 2 stern lines from the port and starboard quarters to mooring buoys. Vessels heads 260° when all fast.

BERTH LOA DRAFT BERTHING
DOLPHIN: 5x5m -7m Alongside

BUOYS: 3 pcs + 1 line connection radar beacon buoy (see Yarimca Piers)

CARGO HANDLED: LPG and Solvents at the berth are propane and butane. Discharging rates; butane 175tons/hrs, and propane 200tons/hrs. Minimum discharging temperature for either cargo is 0° C.

HOSES: Cargo hose picked up on the starboard side, weight of hose 3tons. Ship's crane required with capacity of 3.5tons SWL. Ship's required manifold connection is 8inc. The first 75m. of the cargo line is 8 inc. flexible hose connected to a 14inc. underwater steel pipeline.

CARGO CONNECTION AVRG.RATE SHORE TANK STORAGE
Solvents 6" 150 m3/h 18.600 cbm
LPG 6" 30-35 m3/h
Ipa 6" 85 mt/h
Xylene 6" 90 mt/h
Toluene 6" 150 mt/h
MPG 6" 120 mt/h



BACK PRESSURE: Propane 11kgs., LPG mixte 8kgs. Line working pressure 13.5kgs.

STORAGE: 58.500 sqm open area, 200 sqm covered area, 35 tanks having a total capacity of 30.000 cbm.

FIRE FIGHTING SYSTEM: Available on the pier.

FRESH WATER: available by barge.

BUNKER: service is not available.

AIRPORT: At Istanbul distance apprx. 126 km from the port.

WORKING HOURS: operates 24 hours a day year round.

GARBAGE REMOVAL: service is not available.

WASTE OIL DISPOSAL: service is not available.