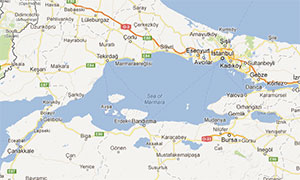 OPERATED BY: Altintel Liman Isletmeleri A.S.

ADRESS: Dilovasi, Cumhuriyet Mah. Bulent Atasayan Cad. Gebze 41400 KOCAELI
PHONE: (262) 574 51 68 - 754 52 16
FAX: (262) 754 94 78
LOCATION: 40.46 N; 29 32 E

MAIN ACTIVITY: Commercial facilities, loading and discharging iron and steel products and general cargo. Altintel also has a tank terminal and peer near Istanbul by the Marmara sea, to facilitate the reception of its main raw material, in addition to its production activities, methanol and permitting, the discharging & loading of general cargoes, drumming, blending, bonded storage for bulk chemicals and generals cargoes handling.

ANCHORAGE AREAS: please see "Gulf of Izmit" (Information on best location of anchorage will be given by Pilot station)

PILOTAGE: : is compulsory in the Gulf of Izmit from Darica to the port and for berthing and unberthing and anchoring, provided by the Dekas Pilot. VHF channels 12, 16.

TOWAGE: and/or mooring boat compulsory arranged by pilot and and provided by the the Med-Marine.

HEIGHT FROM THE SEA: 2.20 m

STORAGE: 58.500 sqm open area 200 sqm covered area ,38 tanks having a total capacity of 35.000 cbm.

FIRE FIGHTING SYSTEM: Available on the pier

PARKING AREA: 3600 sqm

LOAD & DISCHARGING RATES: sheet iron (disc); 1500 mts/crane/day, trunk disch; 400 mts/crane/day Solvents; (1x3")+(4x6")= 75 mts/h (load), (4x6"= 260 mts/h (disc), Possibility to discharge 2 different parcels simultaneously. Hoses distance from tanks to manifold is abt. 400 m.

CARGO HANDLED EQUIPMENTS: 2X90 T SWL Mobil cranes, 1x60 T SWL mobile crane, 6x4 T SWL forklifts. (Possibility to rent more power fulls) weigh-brides; 1x6 t, 1x80 t

FRESH WATER: available by barge only.

BUNKER: available by barge only.

AIRPORT: At Istanbul distance apprx. 83 km from the port.

WORKING HOURS: operates 24 hours a day year round.

GARBAGE REMOVAL: service is available by barge.

WASTE OIL DISPOSAL: service is not available.