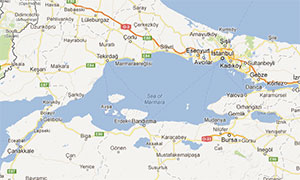 OPERATED BY: Lafarge Aslan Cimento A.S.

LOCATION: 40° 48' 25" N, 29° 20' 30" E 500m. from Yelkenkaya Lighthouse.
PHONE: (262) 745 29 90 / 2 lines
FAX: (262) 745 31 88 - 745 34 27 - 745 31 17

CARGO HANDLED: Cement, Coal

ANCHORAGE AREAS: please see "Gulf of Izmit" (Information on best location of anchorage will be given by Pilot station)

PILOTAGE: is compulsory in the Gulf of Izmit from Darica to the port and for berthing and unberthing and anchoring, provided by the Dekas Pilot.VHF channels 12, 16.

TOWAGE: and/or mooring boat compulsory arranged by pilot and and provided by the the Med-Marine.


NAME OF BERTH LOA DRAFT AVRG.RATE/DAY Load/discharge
No 1 95m -8.5m -9.5m NO WORK AFTER EARTHQUAKE
No 2 159m -14m -26m 3000 / 1500 mtons

HEIGHT FROM SEA: 3-3.5m (No:2).

SHORE CRANES: 1 x 6 T. on Berth No 2 (fixed)

FRESH WATER: available by barge only.

BUNKER: available by barge only.

AIRPORT: At Istanbul distance apprx. 65 km from the port.

WORKING HOURS: operates 24 hours a day year round,

GARBAGE REMOVAL: service is available by barge.

WASTE OIL DISPOSAL: service is not available.