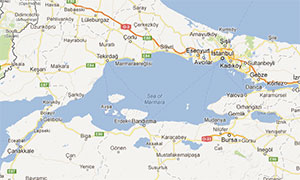 OPERATED BY: General Directorate of Turkish Sate Railways (TCDD)

ADDRESS: TCDD Liman Iþletmesi Mudurlugu Derince-KOCAELI / TURKEY
PHONE: (262) 239 90 21/5 lines, 223 39 16, 239 73 00 , 223 15 40
FAX: (262) 223 42 78
LOCATION: 40° 45' N, 29° 50' E. Situated in the Gulf of Izmit. The main general cargo port on the gulf.

MAIN ACTIVITY: Import;Aluminium, logs, rubber,scrap paper,steel and iron products, timber and woodpulp.
Export;Magnesite, steel and iron products and general cargo.

ANCHORAGE AREAS: Forbidded near the port.Waiting anchorage is at Izmit, 4 miles East of Derince. It is compulsory for vessels with explosives to anchor in Yarimca anchorage. (Information on best location of anchorage will be given by Pilot station)

PILOTAGE: is compulsory in the Gulf of Izmit from Darica to the port and anchoring provided by the Dekas Pilot VHF channels 12, 16 and for berthing and unberthing the port of Derince provided by the monopoly of Turkish State Railways. VHF channels 12, 16.

TOWAGE: and/or mooring boat compulsory arranged by pilot and and provided by the Port Administration.
BERTHING

BERTH LENGTH DEPTH(m)
No 1 General Cargo (*) 110 -2,5, -5
No 2 General Cargo (*) 82 -5, -7
No 3/4 General Cargo, Silo, Logs 440 -15
No 5 General Cargo, Container, Logs 338 -12
No 6 General Cargo, Container, Ro-Ro (**) 220 -10, -11
No 7 General Cargo 180 -6, -10
No 8 General Cargo 120 -2, -5
(*) : Entrance to the berths no. 1-2 is limited due the silo's conveyor over crossing (Permitted air draft: 21 m)
(**): Pipe Lines to "Refine Chemical Plant" are established on the Pier No: 6. Different parcels can be discharged simultaneously 5 tanks with capacity of 8000 m3 and 5x1.600 m3 tanks.
CARGO HANDLING EQUIPMENT: For handling grain of one 1.200 ton/hr pneumatic loader for loading, and 2x600 ton/hr. capacity pneumatic unloaders fpr unloading, together with 2x1.200 ton/hr.capacity conveyors will be in place, and they will have connection with the quay. Also available 9 Shore cranes of 5 to 35 tons cap, 2 Special container mobile cranes of 40 tons cap, 9 Mobile cranes of 3 to 27 tons cap, 28 General cargo forklift of 2 to 5 tons cap, 2 Tug master-Trailer set,1 Loader, 5 Tractors, 2 weigh-bridges up to 100 tons capacity (one for wagons and the other for trucks).

ORE AND BULK CARGO FACILITIES: Bulk cargoes loaded and discharged by grabs.

STORAGE: The quay is rail connected and provided with 12.500 sq.m. of closed storage and 122.990 sq.m. of open storage. A new silo of 95.000 tons capacity has been completed.

RO-RO FACILITIES: A new Ro-Ro pier 140 m. Length and a ramp on No:6 (Mediterranean mooring) are
available. Actually, Ro-Ro lines to Constanza and Illychevsk are existing.

CARGO HANDLING RATES: General cargo rates; 100 to 125 tons/gang/shift. Iron Products; 200 to 250 tons/gang/shift.Chemicals rates; connection 2x6inch 60 to 70 tons/hr for loading and 150 to 300 tons/hr for unloading.

FRESH WATER: available at all berths.

BUNKER: available by barge or truck.

AIRPORT: At Istanbul distance apprx. 130 km from the port.

WORKING HOURS: operates 24 hours a day year round, First Shift: 08.00-16.30hrs .Second Shift:16.30-00.30hrs.Third Shift: 00.30-08.00hrs. Possibility to perform handling on Sunday in case to pay gang's overtime.

GARBAGE REMOVAL: service is available.

WASTE OIL DISPOSAL: service is available. An oily water separator system is available at the capacity of 4.500 cu.m./year.