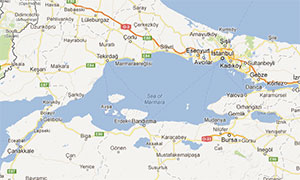 OPERATED BY: Kirlangic A.S.

ADDRESS: Atalar Mah. Yasar Erken Sok. No:8 41740 Korfez - Kocaeli - Turkey
PHONE: (262) 528 70 00 / 8 lines
FAX: (262) 528 70 08
LOCATION: 40° 44' 40" N, 29° 46' 00" E

CARGO HANDLED: Olive Oil

MAIN ACTIVITY: As one of the biggest edible oil producers of the country The Kirlangic started the production of olive oil in 1953. During the process which stretches out from Akhisar/Manisa in 1953 to Yarimca/Kocaeli today, both Kirlangic and olive oil have incessantly renewed and developed themselves.

ANCHORAGE AREAS: please see "Gulf of Izmit" (Information on best location of anchorage will be given by Pilot station)

PILOTAGE: is compulsory in the Gulf of Izmit from Darica to the port and for berthing and unberthing and anchoring, provided by the Dekas Pilot.VHF channels 12, 16.

TOWAGE: and/or mooring boat compulsory arranged by pilot and and provided by the the Med-Marine.

BERTHING: Vessels are to berth stern fast The vessel berthed stern wards and vessel to provide flexible hoses between ships stern and shore connection. Height from the sea 2.6 m. Fire fighting existing and Steam available.Max. perm.loading 180 kgs/sq.m.


LENGTH (m) DEPTH (m) BERTHING/CARGO CONNECTION AVRG. RATE
17 - 4 -11 Stern Fast/Olive oil 6" 80 tons/hr

CARGO HANDLED: Industrial oil, Vegoil

STORAGE AREA : 10 tanks totally 8.600 tons.

FRESH WATER: available by barge.

BUNKER: available by barge only.

AIRPORT: At Istanbul distance apprx. 112 km from the port.

WORKING HOURS: operates 24 hours a day year round.

GARBAGE REMOVAL: service is by barge.

WASTE OIL DISPOSAL: available.